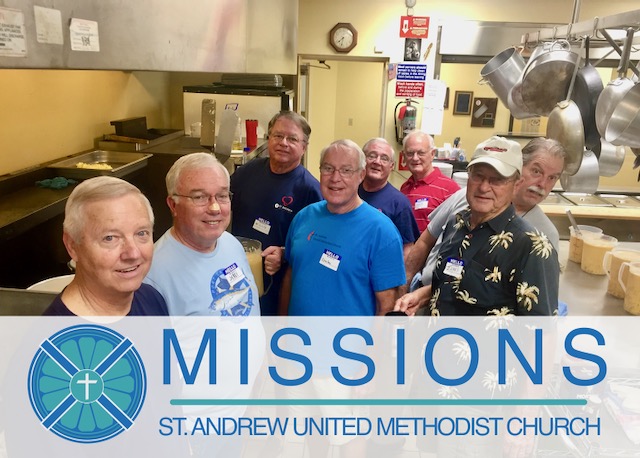 Missions are at the core of who we are. Christ commanded us to go into the entire world to proclaim the good news, to care for widows and the orphans, to feed the hungry and give drink to the thirsty, to welcome the stranger, to clothe the naked, and to visit the prisoners.
Below are some of our on-going ministries and they may change from time to time, with additional projects or programs added, or others deleted as we evaluate and respond to the needs in our community and world.
COMMUNITY BREAKFAST
St Andrew UMC cooks serves and helps clean-up at the Community Breakfast for the Hungry, the Homeless and the near Homeless at FUMC on a bimonthly basis.
CREATIVE WORD AT BAY COUNTY COUNSELING ON AGING
Every third Thursday of each month, we host a creative class at the Bay County  Council on Aging/Respite Center for clients in the who struggles with Alzheimer's disease. Volunteers are always needed to help facilitate classes and assist participants.
FAITH IN ACTION SUNDAY
During the month of September is when we worship early, then go out into the community to complete various projects where there is a need, for example: yard work for the elderly or disabled (through the Council on Aging), landscaping, yard work for Oakland Terrace Elementary School, choir singing at several nursing homes, various projects needed at Titus 2 Partnership's Ministry for Women, care packages for college students and overseas military, hygiene kits for the homeless, making blankets for children and adults in special circumstances. These projects may vary from year to year.
LOCAL SCHOOL PARTNERSHIP:
Backpacks, school supplies for students, or school supplies for teachers at Oakland Terrace Elementary School and a special luncheon at the beginning of the school year for the teachers and staff at Oakland Terrace.
CLOTHING THE NEEDY:
Jackets and winter clothing collected and distributed to several local elementary schools for the winter weather. Teachers tell us how scantily clad some of the children come to school.
CONTRIBUTIONS:
We continue to participate in on-going needs such as the No More Malaria Campaign, United Methodist Committee on Relief (UMCOR) kits, various mission projects around the world, and the Alabama-West Florida Conference Children's Home organization among others.
CENTER OF HOPE:
We partner with the Center for Hope, here in our own St. Andrew community to provide food, clothing, and more to the needy.
NURSERY MISSIONS:
Our nursery director has various projects during the year for which she collects items, such as baby and toddler items collected to go to the Children's Home Society; snacks for the weekend backpack program for children, a tree of socks to be given out when the weather is cold to needy children, and many more projects.