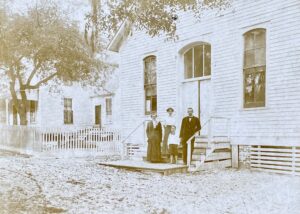 Our congregation began as the St. Andrew Methodist Episcopal Church in 1886. Our first church building, currently on the corner of Chestnut Avenue and 11th Street, was completed in 1887 and is the oldest church building still in use in Bay County today. Our first minister, Rev. W.M. Cromon, came from the Pennsylvania Conference. Prior to the Civil War, many
Methodist churches below the Mason-Dixon line split over race and slavery issues to form the Methodist Episcopal Church South (MECS). It is significant that our church began as a Methodist Episcopal Church and not a MECS. To this day we celebrate our history and tell our snowbirds who visit every winter, "We have a northern church that is full of southern hospitality."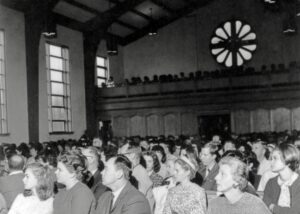 Our congregation built a new sanctuary and moved to our current location in 1955. The "Heritage Bell" located in our bell tower dates back to 1895 and came from the original church. The first service in the new sanctuary was held on March 20, 1955. The Educational Building was completed in 1958. The United Methodist Church was created in 1968, at which time our congregation was renamed St. Andrew United Methodist Church (SA-UMC). The church celebrated its centennial in 1986.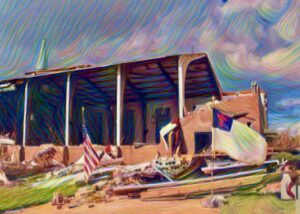 On October 10, 2018, Panama City and the surrounding area was ravaged by Hurricane Michael. SA-UMC sustained significant damage to 100% of its facilities.  The following Sunday, the church rallied for worship in front of its demolished building. For the next eight months, the church set up a tent and worshipped in its parking lot. The church then repaired and moved into its former youth building for another six months. As of Easter 2021, the church has repaired approximately 50% of its facilities, with renovations to the Wesley Building, Worship Center, Education Building and Office Complex completed. While the sanctuary is being rebuilt, the church is holding services in its beautifully renovated Worship Center at 10:30am on Sunday Mornings.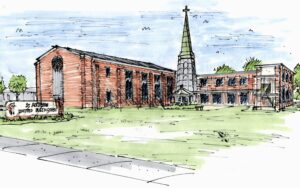 The church continues to rebuild and is currently focused on completing the sanctuary. The design is both traditional and modern. It has an eye on the past 135 years and the many ways God has empowered it to be a pillar in this community. The design is also focused on the next 135 years and seeks to meet all of our missional, worship and fellowship needs.
As we rebuild, we are not losing sight of God's call on our lives and we are striving to be good stewards of all that we have been given. We continue to develop our master plan with mission, outreach and disciple making in mind. Our hope is that our neighbors and surrounding community will know that this place is as much theirs as ours and that everyone will know they can come and experience Jesus for themselves at St. Andrew  United Methodist Church.